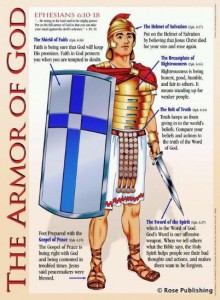 You may have heard the phrase 'chink in one's armor' used to describe a weak or vulnerable area of our life. That's true for Christians and non-Christians alike. The armor of God is a metaphor to help us understand that we need God in all areas of our life. When we are not listening and obeying Him there will eventually be a chink in our armor that opens us up to our mutual enemy, Satan. Open your Bible to Psalm 119:73-80.
The writer of this tenth octave acknowledged God as the One who knows him and formed him with His own hand. Our personalities and body types are not random, they are chosen, gifts from God. He knows our strengths and weaknesses and understands us better than we do ourselves. The Hebrew word that focuses us today is yad: hand.
The writer of Psalm 139 understood the metaphor of God's hand:

… even there your hand shall lead me, and your right hand shall hold me. (Psalm 139:10 ESV)
The Psalmist desired to know what God's commission or assignment is (vs. 73-74), His revealed will, then consequently, others will observe him and rejoice. Revealed will? That's when God clearly directs you in life. His will is His assignment and timing. Christians can easily find ministry opportunities and step into them because they detect a need. Paul had that experience (Acts 16:6), however, the Holy Spirt literally blocked his way because his is timing was off. When we misread the signs God gives us for ministry or get ahead of Him there are often consequences.
Verses 75-78 show us that God will discipline or correct us in various ways to get our attention. Satan uses many methods to come against us when he senses a chink in our armor. Lies, mockery, or shame are listed in these verses but always remember that God has His own ways of slowing us down and causing us to focus on Him and His revealed will. Not every need in the Church is to be met by you, that's why we're described as a body with many parts.
In the midst of God's faithful correction the writer tells us that His love, comfort, and mercy will sustain us. Meditating and praying on God's commission, from among the opportunities available, is our first assignment. We want our hearts to be blameless (vs. 80) as we go about His business in ministry.
When we are in the center of God's will there's peace, joy, and happiness. If you're not experiencing that kind of fruit then you may need a course correction. If people aren't observing fruit in your ministry then maybe you've taken on too much, gotten ahead of God, or mistaken about your choices. As we mature in hearing from God, as Paul did, we know when we've heard His voice and direction and are not lured by the voice of a stranger (John 10:5). Step back, reevaluate, and pray.