Psalm 119 Twenty-second Octave
Did you hear the one about the boy who, dressed in a white suit, fell in a mud puddle on the way to church? His frantic mother saw him lying in the mire and yelled to him, "What're you doing?!" His answer was simple, "I'm getting up!" That's the perspective of the Psalmist in this last section of Psalm 119.
We began this trek twenty two weeks ago and have read about one man's hard life; we read about it in every octave. Consider this summary:
scorn, contempt, and plotting
sorrow, grief, and shame
mockery, affliction, and lies
rude, abusive, and arrogant people
suffering, persecution, and oppressiveness
iniquity gaining dominion, wicked laying a snare, and evil purposes against him
he felt small and despised, in anguish due to his adversaries, and cried out to God.
I don't know anyone who's had such a hard life and would've held up under such pressure. What's his secret? The first word of this last section gives us a clue; he brings his case before the Lord. He doesn't come in arrogance or self-righteousness but in humility and confidence in God's Word.
The writer has learned through experience that scripture reveals His character and he bases his case on that truth. He can rejoice, as James reminds us, in the midst of his trials (vs. 169-172).
Dear brothers and sisters, when troubles of any kind come your way, consider it an opportunity for great joy. (James 1:2 NLT)
This author doesn't sit idly by and wait for God to change his circumstances; he reaches for His hand in help (vs. 173 & 175). Again, he bases his request on God's Word. Jesus told us that the Holy Spirit is sent to help us (John 14:25-27) by giving direction, wisdom, or understanding in living the kingdom life; we simply need to ask… but do we?
Psalm 119 closes with the analogy of lost sheep; he admits, as a wandering sheep, his lack of self-sufficiency and need for God. Jesus also spoke of lost sheep:

"If a man has a hundred sheep and one of them gets lost, what will he do? Won't he leave the ninety-nine others in the wilderness and go to search for the one that is lost until he finds it? And when he has found it, he will joyfully carry it home on his shoulders. When he arrives, he will call together his friends and neighbors, saying, 'Rejoice with me because I have found my lost sheep.' In the same way, there is more joy in heaven over one lost sinner who repents and returns to God than over ninety-nine others who are righteous and haven't strayed away! (Luke 15:4-7 NLT)
This writer is not like Job; he based his case on God's character, not self-righteousness. He strives to live his life according to God's Word and even in the midst of tribulation he has found peace.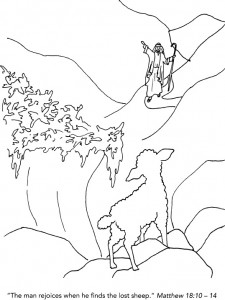 One Response to Psalm 119 Twenty-second Octave