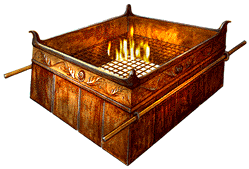 Picture this; it's the Day of Atonement, the one day of the year when the head of the house brought a lamb to execute on behalf of his family. He entered through the gate and approached the burning, fiery altar picturing God's wrath against sin. This is a place of blood and death, however, it's also a place of God's holiness.
This brazen altar, the largest piece of Tabernacle furniture, was a harsh confrontation between God and man. Moses was instructed that the fire should never go out, blood should be applied to the four corner horns, and whatever remained was collected and brought into the Holy of Holies by the High Priest. It's a solemn ceremony. Fire and blood: those elements pictured the wrath and indignation of a holy God toward the sinner. That was true for the Israelites and it's true for us today.
Altars are places that memorialize encounters with God and this burning altar served as a reminder that we were born sinners and deserve His punishment. Divine justice requires blood as payment, therefore, a death must occur. For a believer in Jesus Christ we can see the picture clearly. This 'old system' (Heb. 10:1-7) was only a shadow of the final sacrifice for sin: the blood of Christ. Only perfect, holy blood would satisfy a perfect, holy God, in fact, only God could satisfy Himself.
The brazen altar reminded the people of their sin year after year because no animal cleansed you permanently from your sin nature; this lower story is a picture, a foreshadow, of the cross of Calvary. Jesus, as God Himself, would be the final sacrifice for those who believe. He is the Lamb Who was slain (Rev. 5:12) as John the Baptizer recognized:
As Jesus walked by, John looked at him and declared, "Look! There is the Lamb of God!" John 1:36 NLT
As we think back to this worshiper we can identify with the feelings of sin and guilt as he faced the fire of God but also his relief as he transferred his sin to the lamb. We are confronted every day with our sin but due to the great mercy of a just God we are forgiven. We have that same sense of relief as we remember the punishment Jesus endured in our place: an act of love,

"No one can take my life from me. I sacrifice it voluntarily." John 10:18a NLT
Oh, the great love that Jesus has for us. Who would do that? What king would leave His throne to pay a penalty for his subjects? Only the King of Glory, only the King of all kings. When we take Holy Communion we're remembering the brazen altar and the burning anger and authority of God Who had every right to damn us to hell to pay for our sin. We now approach this altar with thanksgiving and praise remembering the promise of life eternal spent with Him