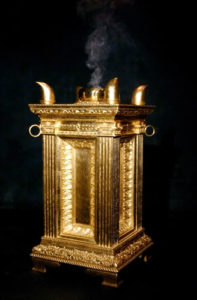 Altar of Incense
As Christ-followers we allow the light of revelation (the Lampstand) to shine on our FaceTime with God (Table of Showbread) as He fills us with His Spirit for the day. We naturally encounter this last piece of furniture in the Tabernacle, the Altar of Incense where we 'stand in the gap' for others.
There are two altars in the Tabernacle that work in unity; the priest took live coals from the Brazen Altar (forgiveness) and added them to the Altar of Incense (intercession) for a continual burning. Can you see where I'm going? This lower story of the Altar of Incense is a shadow for us who have received forgiveness and therefore forgive and pray for others.
Altars are places of remembrance and worship; how fitting for the priest, and us, to be confronted with this altar every day. The more thankful we are for our forgiveness the more fervent, burning, will be our forgiveness of others; yes, even when they don't deserve it.
The burning incense was to be a blend of various precious spices that caused a fragrant smoke to rise to God as a pleasing aroma.
Let my prayer be counted as incense before you, and the lifting up of my hands as the evening sacrifice! Psalms 141:2 ESV
Jesus set the example as He prayed for us, died for us, and rose for us; now we die to ourselves, pray for others, and let that sweet fragrance, again, arise to God.
And walk in love, as Christ loved us and gave himself up for us, a fragrant offering and sacrifice to God. Ephesians 5:2 ESV
This Altar of Incense is a place where we not only pray privately but we join with others in corporate prayer. John wrote what he saw in the book of Revelation that clearly points to this altar.
… fell down before the Lamb, each holding a harp, and golden bowls full of incense, which are the prayers of the saints. Revelation 5:8b ESV
Beloved, it's as if your prayers are stored by God until His timing arrives; never doubt that. Private pray is powerful but the blending of your prayer with others, as precious spices, carries a synergy of God's grace as each person, in a unique approach, offers a sweet fragrance to our God. Jesus saw Jacob's Ladder (John 1:51) as He looked into the invisible, spiritual realm and saw angels ascending and descending on Himself. Could this be the opening of heaven as the Father releases His will on us? Is this what Paul meant when he wrote that the Holy Spirit intercedes for us when we don't know how to pray?
And He who searches hearts knows what is the mind of the Spirit, because the Spirit intercedes for the saints according to the will of God. Romans 8:27 ESV
Come daily in your walk with God through the Tabernacle, stopping at the Altar of Incense and pray for others; it's pleasing to God.