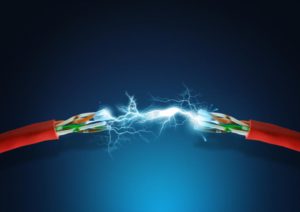 … and what is the immeasurable greatness of his power toward us who believe, according to the working of his great might. Ephesians 1:19 ESV
Let's dig in again. Did you happen to notice that little phrase 'according to'? It means that what was stated is in agreement or consistent with something, like a contract or covenant that's agreed upon by two parties. The limitless, super-power of God that's dynamic and forceful is in agreement and consistent with His working in you. It's not about you … it's about Him. It's His authority, His power, and His covenant with you that will bring about change in your life.
God's promise is that He's working, the Greek word is energeian; we get our word energy from it. This divine energy is the picture Paul is trying to paint for us. With each brushstroke of this verse we see another aspect of God's character and love toward us. This divine energy that connects heaven and earth, like the picture above, sends a spiritual current into our inner man to infuse us with His strength and power to overcome any obstacle in our life whether demonic or a consequence of our choices. This working is power in action and it's progressive. Our relationship with Jesus Christ is the beginning and grows stronger as we grow in Him.

… having been buried with Him in baptism, in which you were also raised with Him through faith in the powerful working of God, who raised Him from the dead.
Col. 2:12 ESV

It doesn't change people or situations necessarily … it changes us. It's efficient and operates as we move from Point A to Point B in our lives.
For this I toil, struggling with all his energy that he powerfully works within me. Colossians 1:29 ESV
Practically speaking, it works when you ask the Holy Spirit for wisdom and He imparts ability you didn't have before. It could be a new perspective that gives you more patience and strength to stand, to trust, to wait, or to know your next step.
… according to the purpose of him who works all things according to the counsel of his will. Ephesians 1:11b ESV

One essential point to remember is that God's working energy doesn't change others for you, that's manipulation and control, it changes you.
… but only faith working through love. Galatians 5:6b ESV
Lastly, concerning this working power of God, is the reminder of our hope, confident expectation, and inheritance as a believer. It's grace extraordinaire:
… according to the gift of God's grace, which was given me by the working of his power. Ephesians 3:7b ESV
This working power is far above Satan's rule and authority to influence and dominate us. It's the actual working power that God used when He raised Jesus from the dead: it's resurrection power working in us.

The Spirit of God, who raised Jesus from the dead, lives in you. Romans 8:11a NLT

Brilliant.