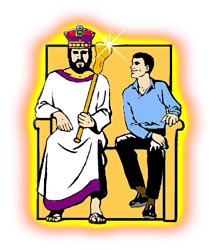 One of the reasons Jesus and Paul were good teachers was the review.
I also pray that you will understand the incredible greatness of God's power for us who believe him. This is the same mighty power that raised Christ from the dead and seated him in the place of honor at God's right hand in the heavenly realms. Ephesians 1:19-20 NLT
I chose another version this time adding a verse to these lessons to draw a formidable conclusion. We are more powerful than Satan because of our union with Christ. Let's review:
*We are given limitless, dynamic power through Christ.
*We operate in mega, super-power against the enemy.
*It's an observable, tangible power of Herculean strength.
*It's resurrection power.
Jesus was restored to His original position seated beside God the Father after His death and resurrection. That eternal place of authority is far above the limited and temporary place of authority God has delegated to Satan on earth.
Now he is far above any ruler or authority or power or leader or anything else—not only in this world but also in the world to come. God has put all things under the authority of Christ and has made him head over all things for the benefit of the church. And the church is his body; it is made full and complete by Christ, who fills all things everywhere with himself. Ephesians 1:21-23 NLT
The purpose of understanding the power words, I've now added two more verses, is to recognize and stand in this place of strength and not weakness or passivity. Christ fills us every day, if we ask Him, with His great might to overcome the enemy at work in our lives.
Since Satan is a liar and deceiver we can recognize his whispers about ourselves and others; they are temptations we must reject. His weapons sound condemning, accusing, and even self-justifying but they're lies and now we know what to do.
For when a strong man like Satan is fully armed and guards his palace, his possessions are safe— until someone even stronger attacks and overpowers him, strips him of his weapons, and carries off his belongings. Luke 11:21-22 NLT
You are stronger than Satan through the limitless power operating in you by the Spirit. Strip him by acknowledging your spiritual union with Christ and developing it by daily communion with Him.
For he raised us from the dead along with Christ and seated us with him in the heavenly realms because we are united with Christ Jesus. Ephesians 2:6 NLT
When the opportunity presents itself, and it will, recall these lessons and go on the offensive: attack the lies and deceptions by standing in truth, rejecting temptation, and love unloving people by forgiving and forgetting. In that way you strip Satan of his limited and temporary power and he's driven away. You are spiritually seated in heavenly places alongside Christ; allow your life to reflect that truth.