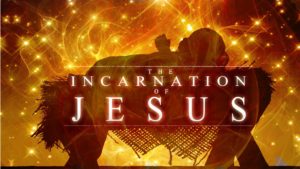 We're given a glimpse into eternity when we discuss the incarnation. The Father explained that the plan was good and it was His divine will even though it included temporary pain and suffering.
But it was the LORD's good plan to crush him and cause him grief. Yet when his life is made an offering for sin, he will have many descendants. He will enjoy a long life, and the LORD's good plan will prosper in his hands. Isaiah 53:10 NLT
The Hebrew word for 'good plan' means to delight or take pleasure in doing something. How could the future of the Messiah, His suffering and death, bring delight or pleasure to His Father? Why would He offer this assignment, knowing the pain and torment involved, and the Son accepted it?
The incarnation, God becoming flesh, was the only way. He was the only One who could be born into the world in perfect holiness, without sin, and qualify for the Plan of Redemption. God Himself needed to take on flesh and blood in order to pay the price for our sin: a blood sacrifice.
Therefore the Lord himself will give you a sign. Behold, the virgin shall conceive and bear a son, and shall call his name Immanuel. Isaiah 7:14 ESV
Immanuel is the Hebrew phrase 'God with us'. When we call or sing to Him by that name we're declaring our faith in The Plan. We're remembering yet again that He willingly accepted the incredible mission to redeem a people for Himself: a Bride. That's love in action.

… the wisdom we speak of is the mystery of God —his plan that was previously hidden, even though he made it for our ultimate glory before the world began. 1 Corinthians 2:7 NLT
This mysterious plan was developed in order for the Son to have a Bride, someone to love and cherish, a people totally committed to Him. The Father was able to look ahead to this ultimate glory and allow the temporary pain and suffering of His Son to not deter Him.
Is there pain or suffering in your life right now? Are there prayers you've consistently prayed for yourself or your family but haven't experienced the answer? Are you still waiting for God's timing or evidence that He's even heard you?
Let me assure you today that He's still listening but here's the kicker; God is able to look beyond your present suffering or confusion and see the outcome. Be confident that He doesn't take pleasure in your pain but delights in knowing the result. Immanuel is not only 'with you' but now is 'in you'.
Even before he made the world, God loved us and chose us in Christ to be holy and without fault in his eyes. God decided in advance to adopt us into his own family by bringing us to himself through Jesus Christ. This is what he wanted to do, and it gave him great pleasure. Ephesians 1:4-5 NLT