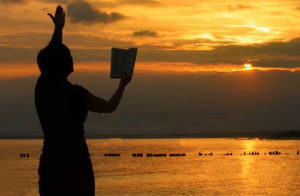 Ishah Chayil
Let's begin this acrostic poem (vs. 10-31), written by a mother to her son, with a perspective of what a 'good woman' looks like. Each verse begins with the sequential letter of the Hebrew alphabet and covers the topic from A to Z.
An excellent wife who can find? She is far more precious than jewels. Proverbs 31:10 ESV
Verse ten begins with the Hebrew word ishah meaning woman. Whether a wife or a single woman, for God is speaking to all women, He shows us that they are invaluable or priceless.
Ishah, this woman of God, is described in various translations as excellent, virtuous, noble, and capable. The Hebrew word is chayil, its meaning also carries the image of a strong warrior and powerful force to be reckoned with. She belongs to an elite army of prayer warriors who go to battle for her family and friends, neighborhood and church, or even her nation.
This valiant woman, full of Jesus' Spirit, fights the powers of darkness that attempt to intrude in her life and is a triumphant warrior:
With God we shall do valiantly (chayil); it is he who will tread down our foes. Psalms 108:13 ESV
This valuable woman is hard to find but when you meet her you know it, in fact, she builds trust in the heart of her family and friends; that's the second Hebrew letter found in verse 11: trust in her.
Her husband can trust her, and she will greatly enrich his life. Proverbs 31:11 NLT
The word for husband can also be translated men in leadership and these men learn to trust the judgment of ishah chayil: fathers learn to trust their daughters, brothers trust their sisters, pastors rely on the prayer warriors of their church (typically females), and employers depend on the women who work for them: its all about proven character. Things seem to go better when this woman is around; she has already covered the situation in prayer.
An ishah chayil (a warring woman) builds confidence in those around her as she prays for God's guidance and strength. Wherever she goes its in the power of the Holy Spirit to do good to those she influences: third letter, verse 12.
She does him good, and not harm, all the days of her life. Proverbs 31:12 ESV
This is an excellent, virtuous, and capable woman who doesn't hold back when it's in her power to impact people for good (Pv. 3:27); she is a 'doer of the Word and not a hearer only' (Jms. 1:22).
To all the women reading this, pray to become an ishah chayil: a warring woman. To all the men, pray that God will bless you with this type of woman who knows where her strength comes from:
Now to him who is able to do far more abundantly than all that we ask or think, according to the power at work within us … Ephesians 3:20 ESV
2 Responses to Proverbs 31