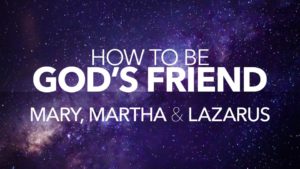 Lazarus is dead, what more could be done? The weeping and wailing was underway and the Rescuer appeared seemingly too late (John 11). Jesus's response to the situation was to thank His Father, in advance, for always hearing Him and producing evidence so they'll believe.
What evidence? The manifestation of God's glory: His victory over death.
The man who had died came out, his hands and feet bound with linen strips, and his face wrapped with a cloth. Jesus said to them, "Unbind him, and let him go." John 11:44 ESV
Jesus connected heaven and earth in this story by loosing the cords of death on this man. His imprisonment was released and the sentence against him annulled: binding and loosing. Jesus set this captive free.
In the lower story Lazarus's hands and feet were tied: he was in bondage. When we look at the upper story we realize that we can be bound as well. Sin, Satan, or even our will can bind or keep us wrapped up as prisoners until someone says "loose him and let him go."
Jesus taught us that binding and loosing are keys to kingdom living and again, makes heaven and earth interconnect:
"I will give you the keys of the kingdom of heaven, and whatever you bind on earth shall be bound in heaven, and whatever you loose on earth shall be loosed in heaven." Matthew 16:19 ESV
Lazarus was bound by the physical death of his body and Jesus freed him. Is there bondage in your life? Sickness, fear, anger, depression, addiction, negative attitudes, hopeless circumstances? Has the enemy bound you and you can't seem to get free? Let me reassure you, you're not helpless because the Helper is ready to move.
Jesus told us that we've been given His authority to loose people from their bondages: keys of the kingdom. In the lower story we use keys to lock and unlock entrances but in the upper story, our spiritual life, we lock out influences of the enemy that draw us away from God. When we're bound we have the authority to use the name of Jesus to be set free. Loosing means we untie, release and annul the effects of the devil's influence. We declare them to be void, nullified, and canceled. That's what Jesus did for Lazarus and many believed in Him, now He gives those keys to us.
The end of this family-story is one of serving. John 12 tells us each sibling took their place operating in their gifts. Martha, serving from a heart of faith, Mary, anointing Jesus's feet for His walk to the Cross, and Lazarus leaning into His Rescuer: reclining. Reclining is the position of royalty and in Hebrew culture it's a sign of freedom.
Lazarus was loosed from bondage and released into freedom.
We can experience those same spiritual truths in our family-story as well: servanthood, embracing the Cross, and reclining next to Jesus as a sign of our freedom. Call for the Rescuer.