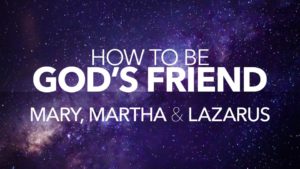 The story of Martha, Mary, and Lazarus is a clear picture of the relationship that's available to us with Jesus: our Brother and our Friend.
So now Jesus and the ones he makes holy have the same Father. That is why Jesus is not ashamed to call them his brothers and sisters. Hebrews 2:11 NLT
Then he looked at those around him and said, "Look, these are my mother and brothers. Anyone who does God's will is my brother and sister and mother." Mark 3:34-35 NLT
Christians all have the same Father and He is also our Friend. Consider the parable of the Friend at Midnight from Luke 11:5-13.
After Jesus responded to Martha and Mary (Luke 10:41-42) by explaining that Mary had chosen intimacy with Him over serving, the disciples asked Him to teach them to pray as well. After explaining a pattern of praying, the Lord's Prayer, He told them this parable of contrast.
The gist of the story is persistence in prayer; not just a simple quoting of the Lord's Prayer but relentless, urgent, and pleading prayer. Friendship is important but Jesus tells us:
—though he won't do it for friendship's sake, if you keep knocking long enough, he will get up and give you whatever you need because of your shameless persistence. Luke 11:8b NLT
Shameless persistence. If a natural friend, annoyed by your requests, will give you what you need, how much more will your Friend and Brother? That's the kind of prayer that's sometimes necessary, especially if you're not seeing answers. I want to be that kind of relentless prayer warrior, unashamed of what people think: unembarrassed boldness before God. I won't stop asking because of fear that He'll be annoyed but come to Him in faith, repeatedly, and believe He'll answer me.
Jesus said that our answer is the Holy Spirit: our Helper, our Advocate, our Defense Attorney, our Friend, and continued with the famous passage (Luke. 11:9-13): ask and receive, seek and find, knock and open.
I think we often forget that when Jesus ascended into heaven He promised to give us another Helper, John 14:16; One just like Himself. What a promise! Verse 17 assures us that we're filled with His Spirit and that He lives in us. What a powerful truth.
Yes, ask me for anything in my name, and I will do it! John 14:14 NLT
There is no greater love than to lay down one's life for one's friends. You are my friends if you do what I command. I no longer call you slaves, because a master doesn't confide in his slaves. Now you are my friends, since I have told you everything the Father told me. You didn't choose me. I chose you. I appointed you to go and produce lasting fruit, so that the Father will give you whatever you ask for, using my name.
John 15:13-16 NLT
Friends and Family.