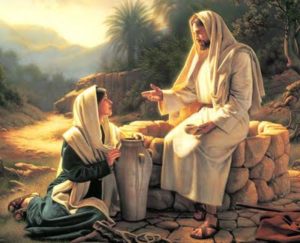 The Apostle John had this amazing ability to see beyond the natural realm and into the spiritual: the lower and upper story. His perspective of Jesus often had a mystical or mysterious outlook to it and John inspires us to look at that mysterious, heavenly side of Jesus' ministry.
John 4 tells the seemingly simple story of a woman that Jesus encountered at a well. He had previously spoken to a Pharisee named Nicodemus, who had come to Him at night, and explained the process of being born again: it's a spiritual birth. Jesus told him, quite mysteriously, that you must be born twice: naturally and spiritually. I'd say that's pretty mystical.
If I have told you earthly things and you do not believe, how can you believe if I tell you heavenly things? John 3:12 ESV
I want to understand heavenly things.
Since Jesus has the Spirit without measure (John 3:34) and was sent from God with purpose, He sensed the Spirit urging Him to leave Judea and travel north to Galilee. That spiritual drive is what we experience as well when we sense the Spirit sending us somewhere; you may also be on assignment from the Father.
Now he had to go through Samaria. John 4:4 NIV
Different translations use different words in this verse: and, but, or now, suffice to say there's more behind that little word. Jesus had to; He was compelled by the Spirit to make this trip. It was necessary, inevitable, and must happen now. There's an emphatic sense to this assignment from His Father and the purpose was salvation.
A good Jew wouldn't travel through this half-breed area of Samaria; there was bad blood but Jesus knew He was on an apostolic assignment, sent by God, and had to take that specific route now.
Why? As we'll see in the coming weeks, Jesus' destination of Samaria wasn't due to convenience: He needed to reach a specific place, at a specific time, to fulfill His divine assignment. Jesus' mission on earth wasn't just for the here and now; He always had the Second Coming in view.
All that the Father gives me will come to me, and whoever comes to me I will never cast out. For I have come down from heaven, not to do my own will but the will of him who sent me.
And this is the will of him who sent me, that I should lose nothing of all that he has given me, but raise it up on the last day. For this is the will of my Father, that everyone who looks on the Son and believes in him should have eternal life, and I will raise him up on the last day."
No one can come to me unless the Father who sent me draws him. And I will raise him up on the last day. John 6:37-40, 44 ESV
Get ready to look at this story from a heavenly perspective.