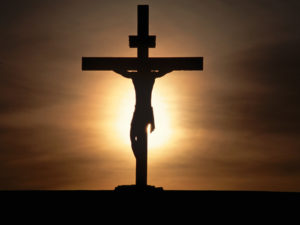 The Cross speaks of many things to many people so let's contemplate another aspect of this image. When Jesus willingly became a curse, He was made sin, took a stand, and paid full price to redeem us. If that wasn't enough we're reminded by Paul that,
I have been crucified with Christ. It is no longer I who live, but Christ who lives in me. Gal. 2:20a
In some mysterious way that Cross represents Jesus' crucifixion and mine as well. I participated in His death; I am joined there together with Him and I can answer the question posed in the old hymn, Were you there when they crucified my Lord? with a resounding "Yes, I was there!"
Not only co-crucifixion but let's continue further. When He was buried, I was buried along with Him, mysterious and deeply spiritual but true, nonetheless. We often stay in the lower story, meditating on the real event that happened 2,000 years ago, however, the upper story causes us to stand in the truth that we died as well.
Do you not know that all of us who have been baptized into Christ Jesus were baptized into His death? We were buried therefore with Him by baptism into death, in order that, just as Christ was raised from the dead by the glory of the Father, we too might walk in newness of life. Rom. 6:3-4
We are in partnership, co-operation, with Christ in His death, burial, and resurrection which gives us right standing with the Father to walk in His victorious life. We are gifted with power to turn from sin and walk in righteousness,

… always carrying in the body the death of Jesus, so that the life of Jesus may also be manifested in our bodies. 2 Cor. 4:10
Oh, this affects my everyday life? It most certainly does.
For the love of Christ controls us, because we have concluded this: that One has died for all, therefore all have died; and He died for all, that those who live might no longer live for themselves but for Him who for their sake died and was raised. 2 Cor. 5:14-15
The last, celebrated event is the ascension of Christ. Did we participate in that as well?
If then you have been raised with Christ, seek the things that are above, where Christ is seated at the right hand of God. Col. 3:1
If Jesus ascended into heaven and now sits at the right hand of God, where are we? Remaining in the upper story, that mysterious and spiritual realm,

… even when we were dead in our trespasses, made us alive together with Christ—by grace you have been saved— and raised us up with Him and seated us with Him in the heavenly places in Christ Jesus … Eph. 2:5-6
That's your position with Christ, not fully realized but at His return it'll be the lower and upper story complete; that's what we envision at the Cross.