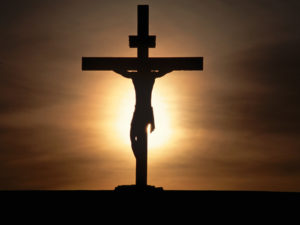 The great thing about the Cross is that it's temporary. Yes, We need to be reminded of that place of death but there's more, a future with Him.
And the life that I now live in the flesh I live by faith in the Son of God, who loved me and gave Himself for me. Gal. 2:20b
I now live. Every day I spend on this earth I live through Him and for Him. My desire is no longer self but a transformation has occurred: it's now what He wants. Christ now lives in me and His Presence infuses me with strength to please Him. Spiritual empowerment is the only way to accomplish God's will in my life, without it I'm confused and under condemnation.
For I do not understand my own actions. For I do not do what I want, but I do the very thing I hate. For I know that nothing good dwells in me, that is, in my flesh. For I have the desire to do what is right, but not the ability to carry it out. Rom. 7:15, 18
Agreed. We have zero ability in ourselves to maintain right living, however, it's Christ in us that's gives us the power to live in righteousness.
We know that our old self was crucified with Him in order that the body of sin might be brought to nothing, so that we would no longer be enslaved to sin. For one who has died has been set free from sin. Rom. 6:6-7
For you have died, and your life is hidden with Christ in God. Col. 3:3
Now, that's good news! We are no longer slaves to the old life of sin and pleasing self but have been delivered into a new life in Christ. So …. I don't sin anymore? No, but you're now empowered to make right decisions so choose wisely.
The point is this: If you're truly a believer in Jesus Christ then your life is different. You think differently, you talk differently, and you behave differently than the world. With the Spirit's empowerment you can now align yourself with God every day. Why not begin each day in His Presence being renewed and empowered by His Spirit?

… and have put on the new self, which is being renewed in knowledge after the image of its Creator. Col. 3:10
The Cross, therefore, stands as a bastion, a stronghold depicting our spiritual position and authority to walk in Kingdom Principles: love, forgiveness, joy, a pure heart, to name a few. We can now truthfully declare, "I can do all things through Christ who strengthens me." Yes, as Paul said, we die daily, but as Jesus reassured us,
If anyone would come after Me, let him deny himself and take up his cross and follow Me. For whoever would save his life will lose it, but whoever loses his life for My sake and the gospel's will save it. Mark 8:34-35