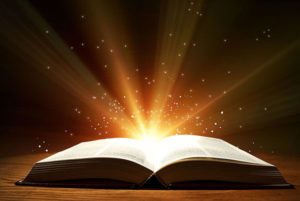 Preaching and teaching are empowerment gifts given by the Spirit to bring about spiritual growth. They're ways of communication, pastors and teachers making our thoughts about God known to our listeners and He is faithful to reveal His wisdom as we seek Him.
But we impart a secret and hidden wisdom of God, which God decreed before the ages for our glory. 1 Cor. 2:7
Paul was clearly a preacher/teacher who knew the Scriptures and desired to make his thoughts known. He explained to us in Ephesians that the Spirit revealed the mystery of Jews and Gentiles alike being fellow heirs of God's promises (3:3-6) and that was only the beginning.
Paul said it was for our glory. When a Bible teacher searches out a matter and communicates the richness of His Word to his/her listeners or readers there's a reputation of honor and good character: that's glory.
It is the glory of God to conceal things but the glory of kings is to search things out. Pv. 25:2
What things?
But as it is written, "What no eye has seen, nor ear heard, nor the heart of man imagined, what God has prepared for those who love Him"—these things God has revealed to us through the Spirit. For the Spirit searches everything, even the depths of God. 1 Cor. 2:9-10
God has prepared things for those He loves, they are deep, rich, and searchable but they require revelation by the Holy Spirit. When we spend time searching the scriptures, praying, and fellowshipping with God He is faithful to tell us some secrets.
Remember, Jesus said, "To you it has been given to know the secrets of the kingdom of heaven," Matt. 13:11a
Again, what things?
*The mystery of the gospel of Christ: Jesus lived, died, and was resurrected for your redemption. Eph. 6:19, Col. 4:3
*The mystery of His Presence living in us. Col. 1:26-27
*The mystery of hidden treasures of wisdom and knowledge found in Christ who lives in us and fills us. Col. 2:2-3, 10
*The mystery contained in the prophetic writings, revealed through the preaching of Jesus Christ, that brings about obedience of faith. Rom. 16:25-27
*The secret of facing all trials in life: His strength infused into me. Phil. 4:12-13
*The mystery of faith and godliness. 1Tim. 3:9, 16
*A partial hardening of Israel and her salvation: Rom. 11:25
*Christ and the Church pictured as husband and wife. Eph. 5:32
*And last, but certainly not least, the mystery of God's will to unite all things in heaven and on earth when Jesus returns at the fullness of time as we know it.
If this teaching doesn't ignite you to hear good preaching, learn from good teachers, and study His Word for yourself, I don't know what will. If you seek, you will find. If you knock, the mysterious door will open.