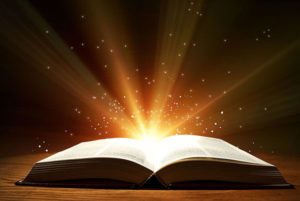 In Luke 11:5-13 Jesus impressed the truth to His followers of the Father's care, concern, and their standing to receive His Spirit and all that encompasses. This is a crucial truth for us to understand since He continued teaching them about the demonic kingdom and its power. In verse 18 we're told that Satan has a kingdom and in verse 20 that God has a kingdom.
Both kingdoms are invisible, in the heavenly realm, but nevertheless both stand in position with authority. In order to understand these kingdoms Jesus refers to an Old Testament passage (Ex. 8:19) when the magicians of Pharaoh came face to face with God's power. They had previously been empowered by Satan to copy the first three plagues even affecting the Hebrews but God ended their power, consequently, they recognized His preeminence:
"This is the finger of God."
It wasn't by accident that Jesus used the same phrase:
But if it is by the finger of God that I cast out demons, then the kingdom of God has come upon you.
Luke 11:20
We would say today that God possesses more power in His little finger than Satan has in his whole body! Interestingly, in Matthew's account of this parable (Matt. 12:22-30) Jesus used the phrase, 'but if it is by the Spirit of God', reminding us that God's power is manifested by the Holy Spirit.
The parable (back to Luke 11) imagines a heavily guarded palace of a strong man, when a stronger man attacks and overcomes him. There's not only victory but the stronger man removes the weaker man's trusted armor and divides his goods. Matthew adds that the stronger man actually bound the weaker man and rendered him powerless. This lower story contains an upper story, the spiritual side, to help us understand this mystery.
As believers, we've been given the right to walk in kingdom principles or ignore the Spirit and walk in the flesh. The Kingdom of God belongs to us but we have to recognize the strong man and with the power of God's Spirit, overcome him. He'll try to steal your joy, peace, finances, relationships, etc. and guard them in his palace. It's our job, as Jesus instructs, to overcome him and become the stronger man (the upper story). The choice is yours; are you the strong man or the stronger man?
Satan's power is limited; yours is immeasurably stronger by His Spirit (Eph. 1:19). The Greek word for His strength imparted to you is iskus: you're like a body-builder, with muscular abilities that accomplish tasks and meet goals: in Christ you're the stronger man.
Finally, be strong in the Lord and in the strength of His might (iskus). Eph. 6:10
If you sense that Satan has stolen from you then stand in your position and declare that with the strength of the Spirit, you're the stronger man and take it back! It's your right as a saint in the Kingdom of God.
2 Responses to